Land clearing may seem like a simple task, but the process of clearing land can be incredibly complex. There are numerous land clearing factors that need to be taken into consideration before starting any land clearing project, and most of these factors require the assistance of a professional. If you do it yourself, you could end up doing more harm than good. It's always better to hire a professional land clearing service because they have the proper tools and training for the job. You don't want to put yourself in danger or risk getting hurt.
First, you need to figure out what type of land you have. Some land is better suited to clearing than others. For example, land that is full of trees and brush can be very difficult to clear. However, land that is well-drained can be much easier to clear. This is because the water will quickly drain away after the trees and brush are removed. If you're planning on clearing a large amount of land, you'll need to hire a professional. This is because the job is very time-consuming. You will need to clear the land from the top down, and that's a lot of ground to cover. If you want to clear your yard, you can hire a professional landscaping company. These companies are experienced in clearing yards, and they will do it quickly and efficiently. They have the right tools and equipment to get the job done.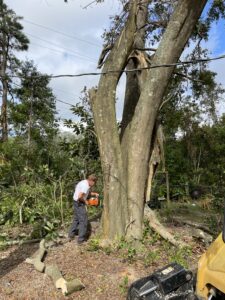 To start, you need to find a good company. Don't choose the first company you come across. There are many things to consider when choosing a land-clearing company. You should look for one that has experience and has been around for a long time. You should also make sure that the company you choose is insured and bonded. You want a company that is properly licensed and insured. You should also make sure that the company is environmentally friendly. A professional will also make sure that your land is properly cleared, and that you don't damage any of the trees or plants. They will also make sure that you are not harming the soil. Many professionals can also put in drainage systems, septic tanks and other important items that you may not have thought about. They also have the right equipment. Professionals will have heavy machinery to clear your lot, they will have the proper tools, and they will have the experience to use those tools effectively.
A professional will know how to work with your soil, the weather, and other conditions. They will have the right tools to do the job right. They will know how to get the job done in the least amount of time possible. They will make sure that the job is done right the first time. And finally, they will do it for a reasonable price. We recommend that you take your time and hire a professional to clear your land who will be able to do the job in a way that will give you the most value for your money.