Land clearing is a huge undertaking, requiring a professional contractor to get the job done. If not handled properly, the job can be dangerous, potentially doing damage to your land. Choosing a land clearing contractor is one of the most important decisions you'll make as a property owner. You want a land clearing contractor who has the experience and equipment to complete the job quickly and efficiently. But, you also want a contractor who you can trust. As such, it's important to ask any potential land clearing contractor a few questions before signing on the dotted line.
Do you have references?
A proper land clearing contractor will have references they can provide upon request. They should be able to point you toward satisfied clients that have utilized their services in the past. Get online and read customer reviews about the company you are looking to hire. Check Yelp and other similar sites to make to see if previous land clearing service customers have good things to say about the business you are thinking about hiring. Even look into their social media presence. Often, customers leave comments on Facebook and Google letting you know what they thought of the services they paid for. A reliable business should have plenty of references and good reviews to boast of.
Will you be using subcontractors?
Many contractors use subcontractors for large jobs like land clearing. While this is fine, you will want to make sure taht you know about it and that you are aware of who is actually working on your land. If your land clearing contractor tells you they do make use of subcontractors, they should be able to furnish references and paperwork for them as well. There is no point in vetting only the land clearing contractor if you don't vet the subcontractors as well!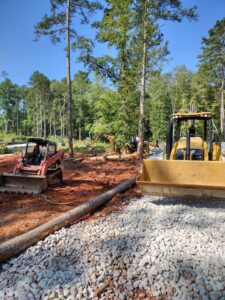 Have you done jobs like this before?
Each job is different and just because you have found a reputable land clearing contractor doesn't mean they have experience doing the exact type of work that you need done. You may in fact discover that your particular project has unique challenges that may baffle a less experienced contractor. The only way to know is to ask, so make sure to describe the type of project you have and everything that will be involved. Inform your potential contractor of any unusual hazards in the area and any unique challenges you feel they may face. Chances are, they have handled similar issues before. If they seem familiar with the type of work you need, it's a good sign.
What safety precautions do you take?
Since land clearing involves a huge undertaking, often involving multiple types of heavy machinery, you will want to be thoroughly aware of any safety protocols that your contractor will be following. Make sure whoever you are considering takes safety very seriously! Not only your safety, but also the safety of their workers, your neighbors, and anyone else who will be in the proximity of your land clearing project. Always hire people who make safety their first priority.
How much do you charge?
While you should never go for the cheapest option when seeking a land clearing contractor, it doesn't hurt to ask for multiple estimates. A company that offers to do the job for too little might not be reputable, although you don't need to go for the priciest option either. Keep prices competitive by asking for several estimates from a couple of different companies by asking your potential contractor about the prices for land clearing based on the following:
The size, location, and structure of your property
The type, size, and the number of trees to be removed
Removal and disposal of debris
Labour costs
Discussing these pricing factors with the contractor to get an estimate will ensure that you know what to expect and to help avoid surprises in the future.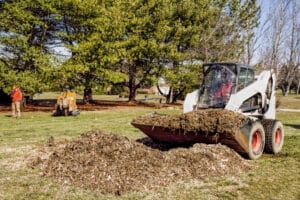 Do I Need To Do Anything?
Your land clearing contractor should be able to tell you how you can prepare for them to start their work. This, of course, also depends on the type of work that is being done. Do you need to shut off any water or power? You might need to contact other services as well. There may be many preparations you need to make on your end, so make sure that you are aware of them before sending the contractors in.
When hiring a land clearing contractor, it's important to ask the right questions. Don't hesitate to ask any questions that come up, and don't be afraid of coming across silly or ignorant. It's better to leave as informed as you possibly can be. This will help to make sure that you hire the best contractor for your needs.